Family of 11 Globe Hoppers Travel the World
Globe Hoppers, the Mark Anderson family of Muscatine, Iowa provide you with adventure travel at its finest like snowmobiling near Longyearbyen,Svalbard (world's most northern community) as in top photo.
6 Continents
100+ Countries
11 Iowans
1 Family
I'd like to write up a few of the highlights from my trip to Israel and Jordan. I'll keep it brief.
Sarah at Mediterranean
Sarah tripping out at the Mediterranean Sea.
Erika wanted to stay in Kibbutz guesthouses, so that was an upgrade for me from hostels and cheap hotels. The breakfast at the one near the shore of the Lake of Galilee was stupendous with 4 kinds of fish, fresh orange juice you could watch being squeezed by the machine when you pressed the button, yogurt of many types, olives, various forms of eggs, many greens and veggies and fruits. Since I was on a liquid fast for the trip I enjoyed the fresh juices and coffee. Speaking of my liquid fast, I woke up one morning feeling better than I ever remember feeling in my entire life!
The Sea of Galilee has dropped vertically at least 15 feet in recent years. The shore line is now I'd say 500 feet at least from the original shore. Funny to see docks in mid air! Sarah & Noah swam one night after dark but it was cold then. I think it took Noah several hours to warm up again.
Noah took up to the Golan Heights a couple miles from Syria to see a huge castle called Nimrod's castle although I don't think it had anything to do with Nimrod. Very huge, it spanned two mountain tops. One fun part was a circular stone stairway that kept descending and descending.
Sarah in Castle
Also, up north we walked inside the ruins of Agrippa's Palace. Paul testified before King Agrippa. It had quite a water system that flowed beneath the floors.
King Agrippa's Palace
Also a wonderful waterfall from a spring in that area - the beginning of the Jordan River!
Jasmine, Sarah, Noah
Around the Galilee was the ancient city of Capernaum made out of stones. It reminded me, Sam, of the village in Turkey where we bought two rugs. A 4th century synagogue was almost all intact and neat to walk around in.
Noah left us here but we saw him again in Jordan. Going south we walked in one of the Qumran caves where the scroll jars were found. Sarah free climbed in there over 40' I think. I wasn't watching but glad she could get some climbing in.
Erika - Qumran Caves
Erika left us here so it was only the 3 Musketeers, Kari, Sarah & Jasmine.
Masada was amazing but so over touristed. Sarah & Jasmine went down a huge cistern room and I enjoyed more looking down on ancient and destroyed Gomorrah because very few people even know what it is. It's actually on both sides of the road to Masada. I got up early one morning and spent some hours walking around and taking photos and soil samples. A big thrill for me to know about this. At one point I said to myself if these were buildings, they'd be hollow and sure enough I then saw one that had caved in on top corners and was hollow. I saw three other of these cities destroyed in the same manner near the Dead Sea.
Gomorrah
A life size Tabernacle was fun to see near the bottom of Israel before we got to Eilat where we stayed in a fancy apartment and swam in the Red Sea with the colorful fishes.
Ark of Covenant Replica
Next was Wadi Rum a desert park in Jordan where we again met up with Noah and he gave us a walking tour of the red desert covered with sage colored sage brush and red rock mountains. I had been fasting and my energy level was not at peak, so Noah flagged down a land rover for me and one guy got out and sat on top so I could catch a ride to the nearest Bedouin Tent of black goat hair. I waited there while Sarah & Noah free climbed 60 feet up (and down) in a canyon and Jasmine watched and prayed.
Wadi Rum
Meanwhile, I was shopping in the Bedouin tent and bought some Bedouin beads, a shell fossil (who can resist a shell fossil found in the desert?), amber cream and some cardamon from Yemen. It's good I didn't have many dinars with me or I would have blown the whole wad! Maybe I was bored or thankful for the lift or just liked what I bought. I drank lots of tea out of a tiny glass glass while I waited and enjoyed the other tourists who stopped by including a group from Texas.
The Wadi Rum is gorgeous! Also very sandy and full of camels and land rovers and not many trees.
Next day was Petra! Noah bailed us out with the $75 entry fee which needed to be in cash. I had to give all my USD to the Jordan car rental guy, so was running short. I did repay him, however, when I got the insurance portion back. Fortunately we had no collisions even if we did enter a few one ways the wrong way! Sarah did all the driving in Jordan and did a super job. Noah was co-pilot.
Petra
Petra is mind-blowing. I loved the Siq or canyon entryway into it. Very mystical and enchanting. I want one of those some day. The three explorers explored up and down and I waited some in front of where the Raiders of the Lost Ark found it and I got to know several postcard salesmen who were about 8 years old.
Noah's home away from home next and the viewing of mosaics in his city. He lives about 100 feet from a world famous mosaic that I had read about and longed to see. I was stunned someone could live so close to something so famous! We all walked around the city and I bought a floor cleaning tool that I saw everyone using and figured I couldn't live without it either.
Madaba Mosaic
Noah took us to Mt. Nebo but we couldn't see quite as much as Moses did because of the fog but the view must be stunning on a clear day. We poked around on some other lush hills filled with grapes and all sort of fruit and we could hear rushing water through irrigation pipes but couldn't find what we were looking for which was called "Moses' Spring". Directions with hand gestures from a man living there just didn't swing it, so we headed for the border and said good bye again to Noah.
Sorry, this was going to be short.
Jerusalem and a fancy guest house that gave us 30% off right by Petra Hostel spoiled me forever! It was so nice we spent most of our time in the room! One draw back to nice guest houses but we did explore the old city in the snow and icy rain even if our shoes got soaked through and through. We saw the Wailing Wall in a hail storm, the Mt of Olives in the rain, missed the timing on Garden Tomb and because of snow other places were also closed but a highlight was being shown a sneaky way to get on top of the wall by some little boys and walking on the wall for free. (We offered to pay when we got off the wall but they said, no, it's okay.)
Jasmine & Sarah in Old Jerusalem
I found some lovely antique pearl earrings that I couldn't resist and my big purchase got us invited to breakfast in the store on Sunday morning....just for us. They loved Sarah! And liked my shekels. I was still on my liquid fast but enjoyed the conversation and watching Sarah down 2 1/2 pita breads plus many other goodies. The tea was remarkable. (Tomorrow is the last day, by the way, of my fast.)
The last night Sarah walked all the way around the outside of the Old City walls by herself in the dark. The soldier guards at one point shined their big spot light on her but I'm sure they could tell she was a farm girl from Iowa and quite harmless so let her continue.
Sarah on the Walls
God was sooooo good to let us go to Israel and Jordan and to see Erika and Jasmine and Noah there.
We were even put into Business Class on the way home and I watched 3 movies and hardly knew how long it took to reach the good old USA again.
End of the Kari Epistle. Thanks for letting me share!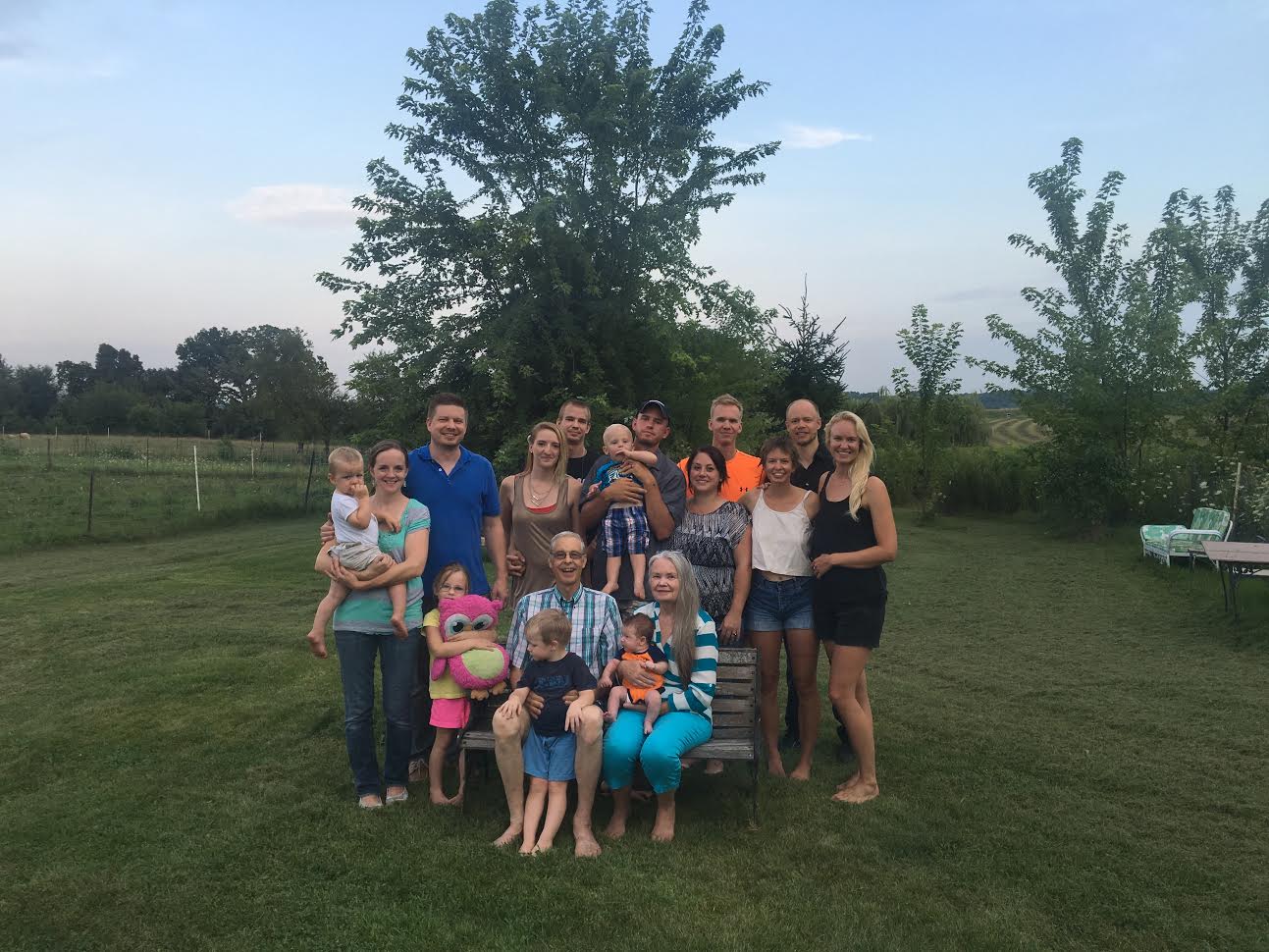 All of Us Together Again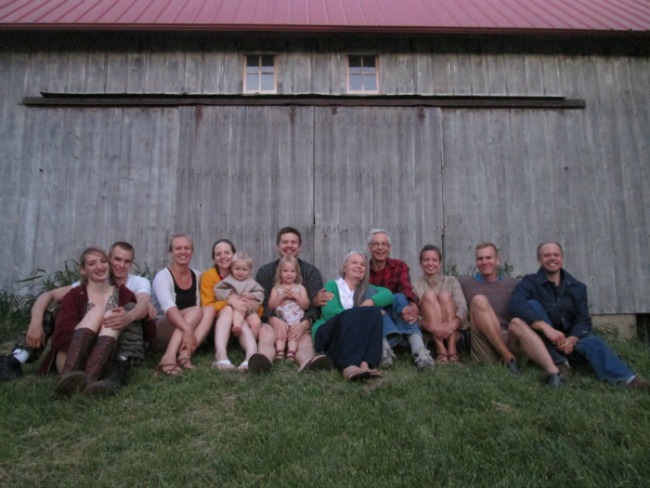 Only Missing Sam, Alexis and Abel & Simon
2012 Welcome Grandma Ose, Liliana & David!
This global travel trend began when dad packed us off to Canada and
Europe on our first international adventure trip years ago.
"Travel is fatal to prejudice, bigotry and narrow mindedness..."
- Mark Twain
Mark Anderson Family, 2010
GlobeHoppers Christmas 2009 -- Welcome BETHANY!!
After tasting adventurous family travel, it's become a way of life--one of us is often on some global escape travel.
We've all gone somewhere--all have been to Asia, but Sarah; all have been to Europe, but John. So far, we've touched our toes on 6 continents and over 88 countries.
Andrew, Samuel, Matthew, Kari, Mark, Sarah, Ethan, Anna & John
Globe Hoppers brings global travel to you with our family trip experiences.
None of us claims to be a global expert in travel, but we'll share the tips we've learned.
"The gladdest moment in human life methinks, is a departure into unknown lands. The blood flows with the fast circulation of childhood." Sir Richard Burton
All set? Well then...let's get going!



create your own visited country map
You won't miss a thing if you keep in touch with our Globe-Hoppers blog. Family adventure at its finest...nine viewpoints from many world points brought right to you online.
At last, I found my sport! Boogie boarding is not only fun it's easy! Even if you're not the sporty type....give boogie boarding a try.
Join me for a birthday party at ANS TV Baku Azerbaijan...find out what really happens at TV stations!
This veggie seller was a walking calculator....who needs bar coded merchandise? It was fascinating to watch this fellow as folks did their Bahrain shopping.
Join me for a rest along the river and view the sci-fi looking Pudong district of Shanghai, China. Is this a movie set?
These delightful children's pictures are made by Michael and Vera Primas' children. Czech Republic Art by Primas Children.
Pupusa Recipe...El Salvadorian delicacy
Who can ever forget what communist East Germany was like...large black dogs sent under the trains, speedy passes through darkened cities, and soldiers everywhere?
The River Thames has ancient artifact treasures galore! Can you imagine just picking up tiles from Tudor house? Or hand forged nails hundreds of years old? How about ancient hand blown glass?
Nothing screams Estonia like a Haapsalu shawl. The ladies of the Baltic sea resort city, Haapsula, developed their knitting skills and now are known for these finely knit shawls that fit through a rin
Photos of the Louvre Museum...from inside the glass pyramid, through windows, van and details.
The Liberty Bridge over the Danube in Budapest is the most elegant and lovely Budapest bridge. The intricate iron work is a beauty to behold.
Kish Island is a part of Iran where one does not need a visa. Visiting mainland Iran is more complicated for USA citizens right now, so I took a day to spend on Kish Island to meet some of its people
I didn't know dulcimers came with feet. This one was like a piano and played on the streets of Dublin...yes, a Dublin dulcimer. See and hear my videos and an extra one too...enjoy.
Wonder what Ginza, Tokyo, Japan is like? This area is similar to Times Square....lots of flashy lights and action going on here.
Photos and an encounter during Petra Jordan travel
Celebrating Kuwait Independence Day with painted cars and five kilometer long banners.
13 reasons why living in a Malawi mud hut beats living at my house.
Travel Adventure in Oaxaca Mexico, 2002 and 2004 including a visit to Casa Hogar, a children's home.
A little bit of info about the fact that the Titanic was built in Belfast...and a true story about some potential passengers on the Titanic.
My Norwegian Heritage is highly documented on both sides of my family. I'm fortunate to have detailed records of my Norwegian Heritage and even a very old photograph of a 7th great Grandfather.
Santa Cruz Island -- heaven on earth....or is it? Yes the beaches are pristine, waters clear, sand white, but what lurks around the bend, unseen from tourist's knowing eyes??
Qatar tornado building in the upscale business part of Doha, Qatar. Our fiend, Ali, works there during construction as an electircal engineer.
Meet Lady the Romanian dog and her friends, Daniel, Christian, Laura and Alexandra.
Inch View Bed and Breakfast Perth Scotland ...a super place to stay, friendly, helpful, great breakfasts and rooms. Inch View B & B in Perth, Scotland is right across from a lovely park.
Svalbard...the north region of the Arctic Circle. Join me on my visit to this "World's Most Northern Place."
Bangkok Christian Guest House Offers Safe, Pleasant Accomodations Near to Shopping Areas. Amenities include common TV rooms, chapel, library, internet access, delicious free breakfast, tours, English
In 2005, I came back from Istanbul with almost 50,000 photos, a big copper pot, and an annoying tendency to stand too close to people when talking with them.
Dubai Creek is an experience,not just a place where water flows. If you don't take time to visit the creek when you're in Dubai...you've missed something special.
Has God ever given you direction through numbers? It's fun to uncover the hidden meaning and then go...like on this UK adventure.
My mom, Adora Ose had a wonderful lawn party this summer....a Red Hat party for her friends from Beliview, MN Red Hat Club...see and hear the fun.
Join me for a visit to Madame Fromage cheese shop in Cardiff, Wales. Is Welsh Rarebit really served in Wales?
Contact Globe Hoppers here. We'd love to exchange links with other travel sites, homeschool sites, family sites, and possibliy others as well. Don't hesitate to contact us.
Globe Hopper News will feature items we've picked out for you that interest us and we think our visitors will also enjoy. Globe hopper news the best of the best.
Experience Bahrain culture and read current news items. Even though this kingdom is miniscule, it's a "happening" place.
Join the fun in reading interesting facts about England, catching up on the latest British news or adding your own take on the green isle.
An Anderson Gallery of our Lives
Globe Hoppers Search
Globe Hoppers links and resources including other great family websites.
Mark Twain quotes about his visits to famous and infamous places around the globe. We've included Mark Twain quotes about his insights on world places.
Now, a place to share your family trips, mission trips, etc, along with your favorite photos. Display and tel about your family trips.
Wow, Texas bluebonnets! What a thrilling sight. Lady Bird would be proud to see her wildflower efforts paying off so nicely. Oh, but watch out for rattlesnakes!
Posts by family and friends. Let us know if you'd like a section for your adventures on Globe-Hoppers.com.
Travel to Turkey and be sure to see Cappadocia where ancient history breatheay living.s through everyday life.
A single Malawi tropical storm can greatly damage a village.
More great international and USA links 2.
Is there such a thing as Malawi safe drinking water?
On a small insignificant street in Haapsalu, Estonia, lies a wonderland, Ilons Wonderland, a place for children to appreciate the art of Ilon Wikland.
Aspiring to be an illustrator? Let the art work of Ilon Wikland, Haapsalu, Estonia inspire you.
A fun, magical farm, Anderwood, where we live, like no place on earth. Aerial view taken by Sarah.